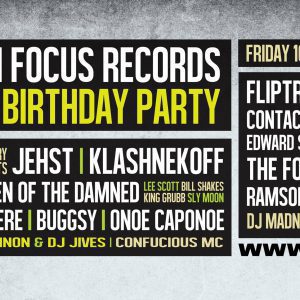 Time is running out to get your tickets for the massive High Focus 4th Birthday Bash tomorrow evening (Friday 16th) at Brixton Electric, London. The venue itself brings excitement. It boasts a 1500 person capacity complete with with a state-of-the-art sound system to get you moving. Previous birthdays were held at smaller venues, so this year you don't want to miss out.
If that's not enough, the incredible roster of top UK rappers will have you chomping at the bit. The lineup is extensive, and carries something for everyone.
ALL the High Focus gang will be there: Fliptrix, Verb T, Leaf Dog, BVA, Contact Play: Dirty Dike, Jam Baxter, Edward Scissortongue, Mr Key, Ronnie Bosh, The Four Owls, Rag N Bone Man, Ramson Badbonez, Dead Players, DJ Madnice, DJ Fingerfood and DJ Sammy B-Side.
In case you were crying out for more, there are also special guests: Jehst, Klashnekoff, Children Of The Damned, Kashmere, Buggsy, Onoe Caponoe, Pete Cannon, Confucius MC and DJ Jives.
The fact that the venue has had to be upgraded is a sign of how well these birthday bashes have gone down in the past! With so much homegrown talent under one roof, it'd be a crying shame not to attend. If you've bought any HF releases in this past year, you owe it to yourself and the artists to get along to this thing.
More information can be found on the event page, and tickets can be bought (they're running out!) over at Ticket Arena.
We only have two more things to say:
One: check out footage from the second birthday bash courtesy of Wordplay Magazine.
Two: We heard your nan's going. Don't let her show you up!

---
---