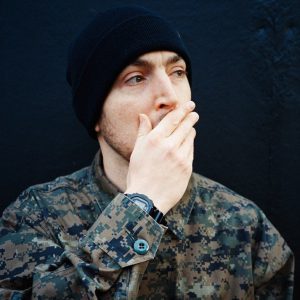 Born William G. Shields, Jehst has a slew of aliases. To quote a couple: Billy Brimstone and The High Plains Drifter.
Jehst debuted in hip hop with Premonitions E.P. on the YnR label, which he had co-founded with Tommy Evans. A year later, in 2000, he appeared on Task Force's Voice Of The Great Outdoors, on the track "Cosmic Gypsies". Jehst continued cementing his place in the scene, linking up with more producers like Evil Ed, Harry Love and Lewis Parker.
In 2003, his debut album "Falling Down" arrived, with features from Lewis Parker, Klashnekoff and Usmaan. From there, he continued to create, until a quiet period in the late 2000's caused some concern.
Thankfully, this video then turned up, causing quite a stir, "What had become of Jehst?". Soon, all was revealed, and "The Dragon Of An Ordinary Family" was released.
"Often an artist's biography is full of buzz-words, wildly sweeping statements and unabashed claims of influencing a generation or changing the face of their chosen genre. Very few can say it with the conviction and sincerity of British born lyricist & producer Jehst. With a sound comparable to none, Jehsts entrance onto the domestic Hip Hop scene truly gave birth to a new breed of wordsmith. His debut release Premonitions (1999) on his own YNR (Young N Restless) Productions imprint instantly allowed the then 19 year old to establish himself as a fiercely independent artist with an unparalleled grasp on language. Painting vivid images with a turn of phrase so many since have tried and fallen short of replicating. With the arrival of The Return of The Drifter (2002) Jehst truly became one of the seminal figures in a flourishing scene, spearheading a movement of artists that would kick open the doors for homegrown Hip Hop to become as vibrant & healthy as it is today. His debut full-length release Falling Down (2003) is widely recognised as one of the most-influential Hip Hop albums to ever come out of the UK. With a captivating stage presence to match his studio persona the self-styled High Plains Drifter fast became a cult-phenomenon on the live-circuit, garnering a reputation that would go on to see him billed alongside some truly iconic artists; from living legends of Reggae Lee Scratch Perry and Max Romeo, to Hip Hop pioneers KRS One and De La Soul and todays Dubstep super-stars Skream and Benga, to name a select few. It was during a run of relentless live-performances that Jehst released his next solo outing Nuke Proof Suit (2005). Despite its brevity, this 8-track milestone spoke volumes, not only about Jehsts own musical direction but also the tense atmosphere of post 9/11 London. This was swiftly followed by his highly anticipated production project Underworld Epics Vol. 1 (2006) which showcased the lyrical skills of peers and pioneers alike while solidifying Jehsts own reputation as a producer in his own right. This period signaled a shift in focus for Jehst as he turned his attention from the rhymes to the beats, establishing his own studio and developing the YNR roster while continuing to tour intensively." – YnR Records
---
---